Dan Duryea Western Outlaw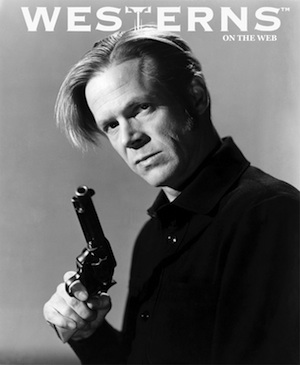 Dan Duryea January 23, 1907 – June 7, 1968 Born and raised in White Plains, New York, Duryea graduated from White Plains High School in 1924 and Cornell University in 1928. While at Cornell, Duryea was elected into the prestigious Sphinx Head Society, Cornell's oldest senior honor society. He majored in English with a strong interest in drama, and in his senior year succeeded Franchot Tone as president of the college drama society.
his parents did not approve of his choice to pursue an acting career, Duryea became an advertising executive but after six stress-filled years, had a heart attack that sidelined him for a year.
Returning to his earlier love of acting and the stage, Duryea made his name on Broadway in the play Dead End, followed by The Little Foxes, in which he portrayed Leo Hubbard. In 1940, Duryea moved to Hollywood.
he found his niche as the "sniveling, deliberately taunting" antagonist in a number of film noir subjects (Scarlet Street, The Woman in the Window, Criss Cross, Too Late for Tears) and westerns such as Along Came Jones.
Dan starred in the western movies Black Bart and Al Jennings of Oklahoma.
In the 1950s, Duryea co-starred with James Stewart in three films, Winchester '73 (as the dastardly "Waco Johnny" Dean), Thunder Bay and Night Passage. He was featured in several other westerns, including Silver Lode, Ride Clear of Diablo and The Marauders.
In 1959, Duryea appeared as an alcoholic gunfighter in third episode of The Twilight Zone, "Mr. Denton on Doomsday"
In 1967, a television version of Winchester '73 was released in which Duryea played the part of Bart McAdam, an uncle to Lin and Dakin McAdam. A notable co-star in the film was John Saxon (Dakin McAdam).
Ermenek When interviewed by Hedda Hopper in the early 1950s, Duryea spoke of career goals and his preparation for roles:
http://benemersongolfperformance.com/?utm=semalt.com Well, first of all, let's set the stage or goal I set for myself when I decided to become an actor … not just 'an actor', but a successful one. I looked in the mirror and knew with my "puss" and 155-pound weakling body, I couldn't pass for a leading man, and I had to be different. And I sure had to be courageous, so I chose to be the meanest man in the movies … strictly against my mild nature, as I'm an ordinary, peace-loving husband and father. Inasmuch, as I admired fine actors like Richard Widmark, Victor Mature, Robert Mitchum, and others who had made their early marks in the dark, sordid, and guilt-ridden world of film noir; here, indeed, was a market for my talents. I thought the meaner I presented myself, the tougher I was with women, slapping them around in well produced films where evil and death seem to lurk in every nightmare alley and behind every venetian blind in every seedy apartment, I could find a market for my screen characters…. At first it was very hard as I am a very even-tempered guy, but I used my past life experiences to motivate me as I thought about some of the people I hated in my early as well as later life … like the school bully who used to try and beat the hell out of me at least once a week … a sadistic family doctor that believed feeling pain when he treated you was the birthright of every man inasmuch as women suffered giving birth … little incidents with trade-people who enjoyed acting superior because they owned their business, overcharging you. Then the one I used when I had to slap a woman around was easy! I was slapping the over-bearing teacher who would fail you in their 'holier-than-thou' class and enjoy it! And especially the experiences I had dealing with the unbelievable pompous 'know-it-all-experts' that I dealt with during my advertising agency days … almost going 'nuts' trying to please these 'corporate heads' until I finally got out of that racket!"
to watch some of Dans western movies
online www.westernstv.com and type Dan Duryea in the search box
On Roku, Apple TV or similar device go to YouTube and search for the westernsontheweb channel https://www.youtube.com/user/westernsontheweb
Dan died of Cancer on June 7, 1968 at the age of 61.