Sergeant Preston of the Yukon – western TV show. buy gabapentin for dogs online CLICK ON THE PHOTO TO GO TO Sergeant Preston of the Yukon – western TV show VIDEOS.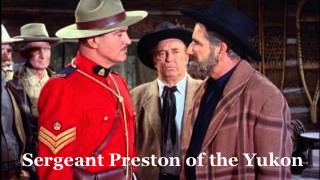 Canadian Mountie Sgt. Preston patrols the wilds of the Yukon with his horse Rex and his faithful dog Yukon King, battling both the elements and criminals. Created by George W. Trendle, Fran Striker. Starring Dick Simmons, Yukon King, Vic Perrin. Half hour TV show with 78 episodes. Originally airing on television from 1955 through 1958. Very Early Color Television series show.
Episode information from http://www.imdb.com
Season 1
Vindication of Yukon King S1, Ep1
29 Sep. 1955 Vindication of Yukon King
Sergeant Preston must work to clear King's reputation after a murderous claim-jumper falsely (and publicly) accuses the dog of causing a prospector's death.
Rebellion in the North S1, Ep2
6 Oct. 1955 Rebellion in the North
A greedy trapper incites an Eskimo uprising and murders an honest Hudson's Bay factor as part of a plot to monopolize the supply of valuable silver fox furs.
Trouble at Hogback S1, Ep3
13 Oct. 1955 Trouble at Hogback
The death of an Indian brave leads Sergeant Preston and King to investigate whether sabotage could be the reason for a series of "accidents" that are plaguing the Hog Back Mining Company.
Incident at Gordon Landing S1, Ep4
20 Oct. 1955 Incident at Gordon Landing
Law-abiding Jim Carver reluctantly offers forgiveness and assistance to his brother Harry, a treacherous ex-convict who is wanted by the Crown for the robbery and murder of an aging trapper.
Bad Medicine S1, Ep5
27 Oct. 1955 Bad Medicine
A self-serving Chilcotte medicine man further endangers his diphtheria-stricken tribe by convincing the chief to reject serum treatment in favor of carrying out superstitious rituals and taking Sergeant Preston as a hostage.
Hidden Gold S1, Ep6
3 Nov. 1955 Hidden Gold
When gold thieves implicate an aging and reformed ex-convict in a robbery, the old man's last best hope for vindication is the unshakable faith of a little girl.
Last Mail from Last Chance S1, Ep7
10 Nov. 1955 Last Mail from Last Chance
To avert a panic in the mining community of Last Chance, Sergeant Preston and King must move quickly to capture three thieves who used a diversionary tactic to hijack a wagon carrying a gold shipment and a cash-rich mail delivery.
The Assassins S1, Ep8
17 Nov. 1955 The Assassins
Aware that he is suspected of misappropriating gold-rich land, a corrupt gold commissioner schemes to cover his crimes by murdering his replacement.
Golden Gift S1, Ep9
24 Nov. 1955 Golden Gift
Two thieves steal a coded letter disclosing the location of a fortune in gold, but they find themselves on an ironic quest to find a Bible when they learn that the code involves specific passages in the Scriptures.
Cry Wolf S1, Ep10
1 Dec. 1955 Cry Wolf
Ruthless gold thieves target a rich claim that was reportedly staked by "Windy" Brown, a man with an understanding wife and a reputation as an incurable teller of tall tales.
Girl from Vancouver S1, Ep11
8 Dec. 1955 Girl from Vancouver
A mendacious investor attempts to gain control of a valuable mine by killing one of its principals and framing the other for the murder.
Treasure of Fifteen Mile Creek S1, Ep12
15 Dec. 1955 Treasure of Fifteen Mile Creek
Claim jumpers Hunch and Shanto are determined to steal a valuable mining claim document that has been concealed inside the violin of itinerant musician Jim Dallas.
The Boy Nobody Wanted S1, Ep13
22 Dec. 1955 The Boy Nobody Wanted
Recently orphaned Denny Pickens finds that his Aunt Flora is unreceptive to taking him in, but he gets a chance to prove himself by helping Sergeant Preston in his pursuit of bank robber Cris Darby and his smooth-talking brother.
The Mad Wolf of Lost Canyon S1, Ep14
29 Dec. 1955 The Mad Wolf of Lost Canyon
Sergeant Preston and an overconfident Scotland Yard Inspector trail a fugitive murderer into a wilderness area inhabited by a crazed and bloodthirsty wolf.
One Bean Too Many S1, Ep15
5 Jan. 1956 One Bean Too Many
An aspiring news photographer with a curious knack for being in the right place at the right time helps Sergeant Preston and King in their pursuit of fur thieves who were responsible for the death of an Indian brave.
Crime at Wounded Moose S1, Ep16
12 Jan. 1956 Crime at Wounded Moose
Reformed ex-convict Luke Reading is accused of masterminding a series of robberies by a gang of hooded thieves, but he becomes Sergeant Preston's ally when evidence begins to point in another direction.
Dog Race S1, Ep17
19 Jan. 1956 Dog Race
A ruthless member of a gambling syndicate attempts to affect the outcome of the All-Yukon Dog Race by assaulting the owner of the favored team and attempting to poison his lead dog.
Phantom of Phoenixville S1, Ep18
26 Jan. 1956 Phantom of Phoenixville
Sergeant Preston offers help to an inexperienced young couple while pursuing thieves who have tapped into the RCMP's telegraph line in order to obtain confidential information concerning gold shipments.
Trapped S1, Ep19
2 Feb. 1956 Trapped
Treacherous sneak thief Milt Strang is saved from freezing by compassionate Yukon newcomer Eileen Mabry. Strang repays the young woman's kindness by attempting to steal her husband's valuable gold claim at gunpoint.
Justice at Goneaway Creek S1, Ep20
9 Feb. 1956 Justice at Goneaway Creek
Sergeant Preston must act quickly to prevent a lynching when struggling miner Johnny Johnson is falsely accused of murdering the man who held an overdue note on his claim.
Skagway Secret S1, Ep21
16 Feb. 1956 Skagway Secret
In the Alaskan town of Skagway, Sergeant Preston is assisted by U. S. Marines in his dangerous undercover pursuit of a murderous fugitive and the head of a gold smuggling ring.
Relief Train S1, Ep22
23 Feb. 1956 Relief Train
After looting a trading post and murdering the owner, two savage profiteers use the stolen food to extort gold from the starving inhabitants of a successful mining camp that was stranded from its supply chain.
Totem Treasure S1, Ep23
1 Mar. 1956 Totem Treasure
While searching for a missing university professor, Sergeant Preston and the professor's son are taken captive by Kutchin Indians and face execution unless Yukon King can quickly find evidence that the Kutchins' "Totem Spirit" is a fraud.
One Good Turn S1, Ep24
8 Mar. 1956 One Good Turn
An aging miner finds a rich lode with the help of his newly-acquired English partner, but the sudden wealth makes him the target of his envious brother-in-law and a murderous claim jumper.
The Cache S1, Ep25
15 Mar. 1956 The Cache
Attempting to be the first to reach a new gold strike, greedy prospectors assault a trail-wise competitor, steal his coveted food cache, and cruelly leave him to die from wolves or exposure.
Cinderella of the Yukon S1, Ep26
22 Mar. 1956 Cinderella of the Yukon
The abusive young widow of an elderly mine owner conspires with thieves to conceal the fact that the deceased man's gentle teen-aged granddaughter may be the rightful heir to his estate.
Gold Fever S1, Ep27
29 Mar. 1956 Gold Fever
Concerned for his mother's safety, young Jimmy Greenwood leads murderous fur thieves on a dangerous chase over treacherous and little-used trails with Sergeant Preston and Constable Malloy in close pursuit.
The Fancy Dan S1, Ep28
5 Apr. 1956 The Fancy Dan
A dishonest promoter with a disdain for "Fancy Dan" boxing rules schemes to abscond with the proceeds from a heavily-attended fight in the remote mining town of Wheelers.
The Coward S1, Ep29
12 Apr. 1956 The Coward
The pusillanimous son of a crusading local newspaper publisher discovers his courage after he is abducted and threatened by the henchmen of the corrupt town boss and his dishonest attorney.
Father of the Crime S1, Ep30
19 Apr. 1956 Father of the Crime
When a greedy mining executive files an unwarranted lawsuit against the claim of two brothers, his debt-laden son convinces one of the brothers to assist him in robbing his father's gold shipment.
Remember the Maine S1, Ep31
26 Apr. 1956 Remember the Maine
A dishonest troupe of traveling performers plans to frame a former war hero for the theft of $17,000 in contributions intended for the families of the American servicemen who died as a result of the explosion of the U.S.S. Maine.
Love and Honor S1, Ep32
3 May 1956 Love and Honor
Constable Lee Wayne questions his own qualifications to serve as a Mountie when the brother of his fiancée is involved in a bank robbery and Wayne is unable to take the actions necessary to prevent his getaway.
All Is Not Gold S1, Ep33
10 May 1956 All Is Not Gold
Mine owner "Windy" Brown's braggadocio and his exaggeration of the size of a gold shipment put Sergeant Preston and King in danger from a pair of sneak thieves.
Season 2
Limping King S2, Ep1
13 Sep. 1956 Limping King
Yukon King's "lame dog" trick helps Sergeant Preston get close enough to reason with Tom Elders, a gentle veterinarian who turned into a rifle-brandishing hermit after apparently being swindled out of his life's savings of $9,000.
The Rookie S2, Ep2
20 Sep. 1956 The Rookie
Sergeant Preston is close behind as young Constable Dennis Burns doggedly pursues murderous Lefty Burke across rough country, unaware that Burke is actually his long-absent father.
Pack Ice Justice S2, Ep3
27 Sep. 1956 Pack Ice Justice
After his Eskimo tribe saves two white men from from freezing to death, tribe leader Ooluk vows revenge when the two decide to repay the kindness by stealing furs and assaulting Ooluk's wife and brother.
Revenge S2, Ep4
4 Oct. 1956 Revenge
Released after 10 years in prison, psychopathic Carl Stack holds Sergeant Preston responsible for his incarceration and hires assassin Pierre La Fitte to murder him from ambush.
Littlest Rookie S2, Ep5
11 Oct. 1956 Littlest Rookie
Sergeant Preston takes an interest when a young boy and his dog are both rescued from potentially life-threatening injuries by a man who may be a fugitive from justice.
Lost Patrol S2, Ep6
18 Oct. 1956 Lost Patrol
Sergeant Preston searches rough and uncharted country for a lost party that was delivering a vital Indian treaty, but he is unaware that his "guide" is actually a saboteur who strongly opposes the treaty.
King of Herschel Island S2, Ep7
25 Oct. 1956 King of Herschel Island
Sergeant Preston and King go on a determined mission to remote Herschel Island after receiving word that violent mutineers from a stranded whaling vessel have virtually enslaved the peaceful Eskimos who inhabit the area in winter.
Ghosts of the Anvils S2, Ep8
1 Nov. 1956 Ghosts of the Anvils
Sergeant Preston poses as a cheechako in an effort to expose a pair of murderous thieves who dress in eerie all-white outfits to ambush (and frequently kill) would-be prospectors to steal their supplies.
Eye of Evil S2, Ep9
8 Nov. 1956 Eye of Evil
Treachery abounds as a wealthy man's business manager murders a jewel thief in order to obtain the "Eye of Evil", a $100,000 black pearl that was stolen in the U. S. and smuggled into the Yukon in the hope of finding a buyer.
Luck of the Trail S2, Ep10
15 Nov. 1956 Luck of the Trail
Two thieves who robbed an elderly miner meet Sergeant Preston on the trail and attempt to arrange an "accident" when King repeatedly sniffs near the stolen gold.
Return Visit S2, Ep11
22 Nov. 1956 Return Visit
Bank robber Walt Daniels endangers his ex-wife and young son by returning to their home after telling his violence-prone partner Harry Evans that he must meet Daniels there in order to claim a share of the stolen money.
The Tobacco Smugglers S2, Ep12
29 Nov. 1956 The Tobacco Smugglers
Sergeant Preston and a U. S. Marshal trail a ruthless bone-crushing bruiser and two henchmen who are stealing tobacco in Alaska and smuggling it across the border for sale in the Yukon.
Turnabout S2, Ep13
6 Dec. 1956
Emergency on Scarface Flat S2, Ep14
13 Dec. 1956
The Williwaw S2, Ep15
20 Dec. 1956 The Williwaw
Sergeant Preston is injured and shares a cabin with a madman near Fishing Lake.
Border Action S2, Ep16
27 Dec. 1956
The Black Ace S2, Ep17
3 Jan. 1957
Scourge of the Wilderness S2, Ep18
11 Jan. 1957
Blind Justice S2, Ep19
17 Jan. 1957
The Stolen Malamute S2, Ep20
4 Apr. 1957
The Devil's Roost S2, Ep21
11 Apr. 1957
Ten Little Indians S2, Ep22
18 Apr. 1957
Underground Ambush S2, Ep23
25 Apr. 1957
Season 3
Old Ben's Gold S3, Ep1
3 Oct. 1957 Old Ben's Gold
Ben Taylor, an old prospector who has bragged extensively about his exploits apprehending criminals with the Mounties, loses the respect of his grandson when he turns over his hard-earned gold to a band of crooks. Sergeant Preston learns of the robbery and determines to capture the thieves with the assistance of Ben and his dog, Yukon King.
The Rebel Yell S3, Ep2
10 Oct. 1957
The Mark of Crime S3, Ep3
17 Oct. 1957
Storm the Pass S3, Ep4
24 Oct. 1957
Old Faithful S3, Ep5
31 Oct. 1957
The Skull in the Stone S3, Ep6
7 Nov. 1957
Ghost Mine S3, Ep7
14 Nov. 1957
The Jailbreaker S3, Ep8
21 Nov. 1957
Out of the Night S3, Ep9
28 Nov. 1957
Three Men in Black S3, Ep10
5 Dec. 1957
Lost River Roundup S3, Ep11
12 Dec. 1957
The Old Timer S3, Ep12
19 Dec. 1957
Battle at Bradley's S3, Ep13
26 Dec. 1957
The Generous Hobo S3, Ep14
2 Jan. 1958
Follow the Leader S3, Ep15
9 Jan. 1958
Gold Rush Patrol S3, Ep16
16 Jan. 1958
Grizzly S3, Ep17
23 Jan. 1958 Grizzly
A dog named Mute leads Sergeant Preston to a hermit named Grizzly. Together they go after two fur thieves in an old mine where they are hiding after stealing furs at Elk River.
The Diamond Collar S3, Ep18
30 Jan. 1958
Escape to the North S3, Ep19
6 Feb. 1958
Outlaw in Uniform S3, Ep20
13 Feb. 1958
Boy Alone S3, Ep21
20 Feb. 1958
The Criminal Collie S3, Ep22
27 Feb. 1958