Sky King – western TV show. Abingdon CLICK ON THE PHOTO TO GO TO Sky King – western TV show VIDEOS.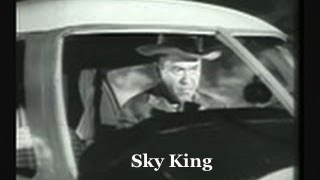 "From out of the clear blue of the western sky comes Sky King" was the familiar opening to television's premier aviation program. Operating from his Flying Crown Ranch in Arizona, Sky King, his niece Penny and their Cessna 310 airplane "Songbird" were constantly involved in one adventure after another. Viewed by many children in the 1950's, this program was responsible for inspiring many later aviation careers.
– Written by Wayne Coleman.
Starring Kirby Grant, Gloria Winters, Ewing Mitchell, Ron Hagerthy. This classic western TV series originally ran from 1951 through 1962. There are 72 half hour episodes. King and his niece, Penny (and sometimes Clipper, his nephew), lived on the Flying Crown Ranch, near the fictitious town of Grover, Arizona. Penny and Clipper were also pilots, although they were inexperienced and looked to their uncle for guidance. Penny was an accomplished air racer, rated as a multi-engine pilot, whom Sky trusted to fly the Songbird. In the third TV episode, Penny referred to Clipper as "my brother."
The musical score was largely the work of composer Herschel Burke Gilbert.
Episode Guide information provided by http://www.imdb.com
Season 1
Operation Urgent S1, Ep1
5 Apr. 1952 Operation Urgent
During a fierce thunderstorm, Sky picks up a mayday call from a Air Force courier plane which is about to run out of gas. The Air Force request Sky's assistance in locating the downed aircraft because the pilot is transporting secret documents that are of interest to foreign governments. Sky locates the plane wreck, but the pilot is nowhere to be found. When he discovers that the navigational instruments have been tampered with, Sky fears that enemy agents may have located and stolen the secret plans and are headed for the nearby Mexican border.
Carrier Pigeon S1, Ep2
19 Apr. 1952 Carrier Pigeon
When Penny discovers a wounded carrier pigeon carrying a valuable ruby attached to its leg, Sky suspects a gang of jewel smugglers is operating in the area. With the help of a Mexican police detective, Sky sets up to break up the criminal operation.
Stage Coach Robbers S1, Ep3
3 May 1952 Stage Coach Robbers
A crooked express agent fakes a hold-up to steal gold from his company's vault. He uses an old stagecoach to get the stolen loot out of town.
Deadly Cargo S1, Ep4
17 May 1952 Deadly Cargo
While helping a friend run his freight airline after an accident, Sky stumbles across a gold-smuggling operation.
Jim Bell's Triumph S1, Ep5
31 May 1952 Jim Bell's Triumph
Sky's efforts to prove corruption in the county clerk's office nearly result in disaster, when Sky's foreman, a non-pilot, must land the Songbird when Clipper becomes too ill to fly the plane.
Designing Woman S1, Ep6
14 Jun. 1952 Designing Woman
Sky becomes suspicious when a Eastern woman shows up in Grover claiming to be the long-lost niece and heir of a dead rancher.
One for the Money S1, Ep7
28 Jun. 1952 One for the Money
Penny picks up the wrong suitcase at the airport and discovers it's full of counterfeit money. Sky suspects that a young former engraver might be involved.
Danger Point S1, Ep8
12 Jul. 1952 Danger Point
A rancher disinherits his nephew in favor of his young son. When the rancher is murdered the young man is blamed. Sky hopes that by faking a jailbreak, the real murderer will be forced into the open, but the plan backfires when Clipper and the young man are kidnapped.
Desperate Character S1, Ep9
26 Jul. 1952 Desperate Character
Sky King picks up a young hitchhiker who refuses to divulge his identity, or where he's been or going. Determined to fill in the blank spaces on the young man's resume, Sky learns that he is an escapee from a boy's reformatory who was involved in a recent bank robbery.
The Man Who Forgot S1, Ep10
9 Aug. 1952 The Man Who Forgot
A young rancher disappears after the man attempting to foreclose on his mortgage is murdered. Sky is convinced that the man is innocent and that there's another explanation for the man's apparent flight.
The Threatening Bomb S1, Ep11
23 Aug. 1952 The Threatening Bomb
Eastern gangsters set up a protection racket near Grover and the local ranchers appeal to Sky for help.
Speak No Evil S1, Ep12
6 Sep. 1952 Speak No Evil
The drug Sky delivers to a critically ill man does more than save his life; the medicine causes the man to confess that he's a former criminal who has attempted to go straight.
Two-Gun Penny S1, Ep13
20 Sep. 1952 Two-Gun Penny
Angry that Sky and Clipper won't allow her to join the search for a missing refugee professor, Penny slaps on a pair of six-shooters and launches her own investigation.
Formula for Fear S1, Ep14
4 Oct. 1952 Formula for Fear
Penny sees a man escape from a doctor's office, and is informed that the man is a dangerous mental patient. Sky looks into the incident, and soon finds himself mixed up in foreign spies and poison gas.
The Giant Eagle S1, Ep15
18 Oct. 1952 The Giant Eagle
Sky investigates a series of mysterious payroll robberies, where the police chase the robbers only to see their getaway car mysteriously disappear.
Blackmail S1, Ep16
8 Nov. 1952 Blackmail
A local banker is blackmailed by two former confederates who aware of a crime he committed over twenty years ago and was never apprehended.
Wings of Justice S1, Ep17
22 Nov. 1952 Wings of Justice
A couple of Easterners claim to have traveled west to visit a dude ranch, but are actually a pair of con artists willing to commit murder to obtain a ranch with a rich uranium deposit on it.
Destruction from the Sky S1, Ep18
6 Dec. 1952 Destruction from the Sky
Sky teams up with a military intelligence officer to track down a foreign agent who blew up a secret government project.
The Porcelain Lion S1, Ep19
20 Dec. 1952 The Porcelain Lion
Sky stumbles across a dead pilot and suspicious looking plane wreck and discovers that the man was murdered and the crash never happened. He learns that the plane was carrying a number of valuable pieces of ancient Chinese art, all of which are missing from the plane's cargo hold.
Season 2
The Neckerchief S2, Ep1
2 Jan. 1956 The Neckerchief
Sky attempts to help a young man recently paroled from prison get started again, but the ex-convict's former friends frame him for a bank robbery.
Manhunt S2, Ep2
2 Jan. 1956 Manhunt
The Plastic Ghost S2, Ep3
9 Jan. 1956 The Plastic Ghost
The Rainbird S2, Ep4
9 Jan. 1956 The Rainbird
The Crystal Trap S2, Ep5
30 Jan. 1956 The Crystal Trap
Red Tentacles S2, Ep6
30 Jan. 1956 Red Tentacles
Boomerang S2, Ep7
6 Feb. 1956 Boomerang
Geiger Detective S2, Ep8
27 Feb. 1956 Geiger Detective
Golden Burro S2, Ep9
27 Feb. 1956 Golden Burro
Rustlers on Wheels S2, Ep10
5 Mar. 1956 Rustlers on Wheels
The Silver Grave S2, Ep11
5 Mar. 1956 The Silver Grave
Uninvited Death S2, Ep12
12 Mar. 1956 Uninvited Death
Sky and Penny unwittingly become involved in sabotage when they visit their friends Major Dave and Denise McKay. An enemy agent has attached a time bomb to Major McKay's car, setting the fuse to explode while the Major is working at an army special-projects base. When Denise and Penny borrow the Major's car, they are placed in grave peril.
Fish Out of Water S2, Ep13
19 Mar. 1956 Fish Out of Water
Diamonds on a Sky-Hook S2, Ep14
26 Mar. 1956 Diamonds on a Sky-Hook
Flood of Fury S2, Ep15
2 Apr. 1956 Flood of Fury
During a major flood, Sky, Penny and Bob assist the authorities in their rescue efforts. Unfortunately, three of the men they rescue are murderous escaped felons who force their rescuers to help them rob a flooded bank.
Rocket Story S2, Ep16
2 Apr. 1956 Rocket Story
Rodeo Round-Up S2, Ep17
23 Apr. 1956 Rodeo Round-Up
Showdown S2, Ep18
23 Apr. 1956 Showdown
Land o' Cotton S2, Ep19
23 Apr. 1956 Land o' Cotton
Dust of Destruction S2, Ep20
30 Apr. 1956 Dust of Destruction
Season 3
Mystery Horse S3, Ep1
29 Dec. 1957 Mystery Horse
Double Trouble S3, Ep2
29 Dec. 1957 Double Trouble
Note for a Dam S3, Ep3
5 Jan. 1958 Note for a Dam
Bad Actor S3, Ep4
5 Jan. 1958 Bad Actor
Fight for Oil S3, Ep5
12 Jan. 1958 Fight for Oil
Lost Boy S3, Ep6
12 Jan. 1958 Lost Boy
The Brain and the Brawn S3, Ep7
26 Jan. 1958 The Brain and the Brawn
The Feathered Serpent S3, Ep8
26 Jan. 1958 The Feathered Serpent
The Circus Clown Mystery S3, Ep9
22 Feb. 1958 The Circus Clown Mystery
Dead Man's Will S3, Ep10
22 Feb. 1958 Dead Man's Will
Cindy, Come Home S3, Ep11
11 Mar. 1958 Cindy, Come Home
Rodeo Decathlon S3, Ep12
9 Mar. 1958 Rodeo Decathlon
Abracadabra S3, Ep13
9 Mar. 1958 Abracadabra
Triple Exposure S3, Ep14
9 Mar. 1958 Triple Exposure
The Haunted Castle S3, Ep15
16 Mar. 1958 The Haunted Castle
Man Hunt S3, Ep16
16 Mar. 1958 Man Hunt
Fearing he has killed another boy, Joe Belden, recently released from reform school, flees into the desert. Sheriff Hargrove knows that the Joe's opponent survived the fight, but also knows that Joe, now heavily armed, will think that the law officers are intent on arresting him. He calls upon Sky, whom Joe trusts, to join the man-hunt.
Danger at the Sawmill S3, Ep17
16 Mar. 1958 Danger at the Sawmill
Sleight of Hand S3, Ep18
23 Mar. 1958 Sleight of Hand
The Runaway S3, Ep19
23 Mar. 1958 The Runaway
Stop That Train S3, Ep20
30 Mar. 1958 Stop That Train
Season 4
The Wild Man S4, Ep1
28 Dec. 1958 The Wild Man
Sky and Penny try to clear a gentle, animal-loving "wildman" who has been blamed for the robbery of a logging company payroll.
Sky Robbers S4, Ep2
28 Dec. 1958 Sky Robbers
Sky and Penny enter an air race, and it's soon discovered that the main office has been robbed and all of the receipts have been stolen. Sky suspects that one of the contestants in the race is the culprit and is using the race to make his getaway.
A Dog Named Barney S4, Ep3
28 Dec. 1958 A Dog Named Barney
Sky follows the seeing-eye dog of a blind newsboy, who he believes will lead him to a holdup man living with a party of wolf hunters.
Bullet Bait S4, Ep4
28 Dec. 1958 Bullet Bait
Sky is holding a wedding at the Flying Crown Ranch. The ceremony is interrupted, however, when two gangsters kidnap the groom and threaten his fiancé.
Money Has Wings S4, Ep5
4 Jan. 1959 Money Has Wings
Four pilots for Wellman Air Freight Lines are injured in the first month of a contract for the company to carry s large payroll. In order to find out what's going on, Sky goes undercover as a security guard.
Frogmen S4, Ep6
4 Jan. 1959 Frogmen
Terror Cruise S4, Ep7
1 Feb. 1959 Terror Cruise
While Sky is training with his naval reserve unit, Penny visits friends who cruise Central America on their large sailboat. When three escaped prisoners commandeer their vessel, it's up to Sky and the U.S. Navy to rescue his niece and her friends.
Operation Urgent aka Runaway Truck S4, Ep8
1 Feb. 1959 Operation Urgent aka Runaway Truck
Bounty Hunters S4, Ep9
1 Feb. 1959 Bounty Hunters
When marauding coyotes begin to kill his calves, Sky hires two flying bounty hunters to kill the animals. When more dead calves are found, Sky discovers that the men he has hired are using his ranch to smuggle jewels, not kill vermin.
Dead Giveaway S4, Ep10
1 Mar. 1959 Dead Giveaway
A Mickey for Sky S4, Ep11
22 Feb. 1959 A Mickey for Sky
Young Mickey, a distant relative of Sky's, is traveling to visit the Flying Crown Ranch while his guardian is out of the country. En route, he overhears two men discuss shooting a foreign visitor and is determined to warn the man of his peril.
Ring of Fire S4, Ep12
1 Mar. 1959 Ring of Fire
Sky tries to help an old Indian chief who is very sick, but he won't go to the hospital for treatment because he would rather die on his own tribe's land.
Mickey's Birthday S4, Ep13
8 Mar. 1959 Mickey's Birthday
While visiting an amusement park on his birthday, Mickey wins a model airplane at a shooting gallery. Unfortunately, two smugglers have hidden a valuable pearl in the airplane and will stop at nothing to get it back.