Stoney Burke – western TV show. http://buckymoonshine.com/?fbclid=IwAR31puN7FCaSWU9an88_TBkJuM2SSv3skIh7VuAqqTJFP7qH9ZAkRsOLW6o CLICK ON THE PHOTO TO GO TO Stoney Burke – western TV show VIDEOS.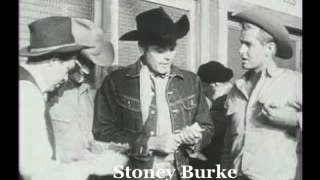 A Rodeo western starring Jack Lord, Warren Oates, Robert Dowdell and Bruce Dern.
Episode Guide for the Stoney Burke – western TV show.
Season 1
The Contender S1, Ep1
1 Oct. 1962 The Contender
Fight Night S1, Ep2
8 Oct. 1962 Fight Night
Child of Luxury S1, Ep3
15 Oct. 1962 Child of Luxury
Point of Honor S1, Ep4
22 Oct. 1962 Point of Honor
The Mob Riders S1, Ep5
29 Oct. 1962 The Mob Riders
A Matter of Pride S1, Ep6
5 Nov. 1962 A Matter of Pride
Sidewinder S1, Ep7
12 Nov. 1962 Sidewinder
The Scavenger S1, Ep8
19 Nov. 1962 The Scavenger
Spin a Golden Web S1, Ep9
26 Nov. 1962 Spin a Golden Web
The Wanderer S1, Ep10
3 Dec. 1962 The Wanderer
Five by Eight by Eight S1, Ep11
10 Dec. 1962 Five by Eight by Eight
Bandwagon S1, Ep12
17 Dec. 1962 Bandwagon
Cousin Eunice S1, Ep13
24 Dec. 1962 Cousin Eunice
Gold-Plated Maverick S1, Ep14
7 Jan. 1963 Gold-Plated Maverick
Death Rides a Pale Horse S1, Ep15
14 Jan. 1963 Death Rides a Pale Horse
The King of the Hill S1, Ep16
21 Jan. 1963 The King of the Hill
A Matter of Percentage S1, Ep17
28 Jan. 1963 A Matter of Percentage
Image of Glory S1, Ep18
4 Feb. 1963 Image of Glory
Cat's Eyes S1, Ep19
11 Feb. 1963 Cat's Eyes
Web of Fear S1, Ep20
18 Feb. 1963 Web of Fear
Point of Entry S1, Ep21
4 Mar. 1963 Point of Entry
To Catch the Kaiser S1, Ep22
11 Mar. 1963 To Catch the Kaiser
Joby S1, Ep23
18 Mar. 1963 Joby
Forget No More S1, Ep24
25 Mar. 1963 Forget No More
Color Him Lucky S1, Ep25
1 Apr. 1963 Color Him Lucky
The Weapons Man S1, Ep26
8 Apr. 1963 The Weapons Man
Kelly's Place S1, Ep27
15 Apr. 1963 Kelly's Place
Kincaid S1, Ep28
22 Apr. 1963 Kincaid
A Girl Named Amy S1, Ep29
29 Apr. 1963 A Girl Named Amy
Tigress by the Tail S1, Ep30
6 May 1963 Tigress by the Tail
The Test S1, Ep31
13 May 1963 The Test
The Journey S1, Ep32
20 May 1963 The Journey
Guest Stars include.
Philip Abbott
Philip Ahn
Denise Alexander
John Anderson
Michael Anderson, Jr.
Elizabeth Ashley
Ed Asner
Edward Binns
Willis Bouchey
Patricia Breslin
Geraldine Brooks
Edgar Buchanan
James T. Callahan
Dyan Cannon
J.D. Cannon
Harry Carey, Jr.
Jean Carson
Virginia Christine
Steve Cochran
Jeanne Cooper
Ted de Corsia
Henry Darrow
Jim Davis
John Dehner
Robert Duvall
Robert Emhardt
Jena Engstrom
Eduard Franz
Dabbs Greer
Mariette Hartley
Peter Helm
Diana Hyland
John Larch
Cloris Leachman
Scott Marlowe
Strother Martin
Mark Miller
George Mitchell
Leonard Nimoy
Ed Nelson
Simon Oakland
Carroll O'Connor
Michael Parks
William Phipps
Judson Pratt
Ford Rainey
Peter Mark Richman
Chris Robinson
Bing Russell
Albert Salmi
William Schallert
Jacqueline Scott
Vito Scotti
Pilar Seurat
Mark Slade
William Smith
Fay Spain
Joan Staley
Harry Dean Stanton
Maxine Stuart
Buck Taylor
Kenneth Tobey
Joyce Van Patten
Jack Weston