Trackdown – western TV show. Paraparaumu CLICK ON THE PHOTO TO GO TO Trackdown – western TV show VIDEOS.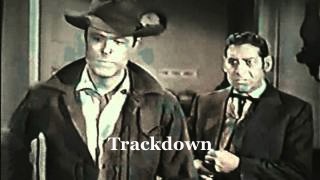 Texas Ranger Hoby Gilman travels the Old West tracking down assorted killers, bank robbers, horse thieves and other evildoers. Trackdown stars Robert Culp as Texas Ranger Hoby Gilman. It is set in the 1870s after the American Civil War about the fictional town of Porter, in Central Texas, not the unincorporated community of Porter in Montgomery County northeast of Houston. The current Porter apparently did not exist until 1892, when a United States Post Office was first established there or perhaps a few years earlier but well after the fictional events of Trackdown. Guest stars include.
Nick Adams
Chris Alcaide
John Anderson
Robert Armstrong
Phyllis Avery
Trevor Bardette
James Best
Paul Birch
Whit Bissell
Walter Brooke
Edgar Buchanan
Ahna Capri
James Coburn
Russ Conway
Walter Coy
Johnny Crawford
Dennis Cross
Richard Devon
Don Durant
Scott Forbes
Robert Foulk
Beverly Garland
Dabbs Greer
Rodolfo Hoyos, Jr.
DeForest Kelley
Michael Landon
Forrest Lewis
Strother Martin
Carole Mathews
Rita Moreno
Vic Morrow
Warren Oates
Susan Oliver
Pernell Roberts
Gloria Saunders
Karen Sharpe
Harold J. Stone
Ray Teal
Russell Thorson
Lee Van Cleef
Stuart Whitman
Jean Willes
Chill Wills
Season 1
EPISODE GUIDE INFORMATION FROM – http://www.imdb.com
The Marple Brothers S1, Ep1
4 Oct. 1957 The Marple Brothers
Ranger Gilman tracks the Marple brothers to Stockton, Texas, where he finds they have taken a church full of hostages in order to get fresh horses, a doctor for a wounded brother– a clean getaway!
Law in Lampasas S1, Ep2
11 Oct. 1957 Law in Lampasas
Hoby, passing through Lampasas, involves himself when the whole town seems intent on the legal lynching of what he thinks is an innocent man.
The San Saba Incident S1, Ep3
18 Oct. 1957 The San Saba Incident
Hoby is assigned to escort a wagon of four prisoners to the state pen in Huntsville. One of the prisoners is a women, and this causes all kinds of trouble.
Easton, Texas S1, Ep4
25 Oct. 1957 Easton, Texas
Hoby is called in to consult after the Texas Railroad office is robbed and the head clerk mortally wounded. The town thinks the dying clerk is a hero– but things are not what they seem.
Like Father S1, Ep5
1 Nov. 1957 Like Father
Hoby tries to show the wild and reckless son of a captured bank robber and killer the kind of man his father really was.
Sweetwater, Texas S1, Ep6
8 Nov. 1957 Sweetwater, Texas
Toby comes up on a stage coach that had been ambushed. The driver and passengers are all dead after being shot in the back, but he soon discovers one soul survivor: an infant in his dead mother's arms. In the baby's blanket, Toby finds a piece of paper with the name "Harriet Salisbury" on it. He delivers the baby to the doctor in the nearest time and begins his mission to find the owner of the name and investigate just who was responsible for the cowardly killing. The answer is quite surprising!
Alpine, Texas S1, Ep7
15 Nov. 1957 Alpine, Texas
Hoby rides into Alpine, Texas looking for a friend. He finds instead a hatred for the Texas Rangers– and the entire town sides against him to drive him out.
Self-Defense S1, Ep8
22 Nov. 1957 Self-Defense
Hoby is visiting his pal Sheriff Lake when beautiful Polly Webster walks in and announces she's going to kill prisoner Duke Kincaid, who is being released from jail in less than 24 hours!
End of an Outlaw S1, Ep9
29 Nov. 1957 End of an Outlaw
Hoby and Ranger Dick Wade are dispatched to Round Rock on the word of an informant who warns that notorious outlaw Sam Bass is intent on robbing the bank in two days!
Look for the Woman S1, Ep10
6 Dec. 1957 Look for the Woman
Hoby gets information from a dying bank robber about his two partners in crime, who have threatened his sister to keep him from talking. Hoby promises to help the man's sister, only to find out all is not what it seems.
The Town S1, Ep11
13 Dec. 1957 The Town
Hoby chases a bank robber into a town run by the robber's family. Captured and stripped of weapons and a horse, Hoby fears for his life in a town that fears the gang so much, they do nothing to help him escape.
Man and Money S1, Ep12
27 Dec. 1957 Man and Money
Hoby convinces a wounded bank robber and killer he's an outlaw himself, hoping to be taken to the missing loot.
The Reward S1, Ep13
3 Jan. 1958 The Reward
Hoby tracks down a missing florist with a rare orchid, who may hold the key to missing bank money and three fugitive bank robbers.
The Farrand Story S1, Ep14
10 Jan. 1958 The Farrand Story
Hoby tracks the murderer of a married man who may have been ready to leave his wife for another woman.
Right of Way S1, Ep15
17 Jan. 1958 Right of Way
Hoby investigates a murder, hoping to free an innocent man, and discovers a land grab to make way for a railroad.
The Witness S1, Ep16
24 Jan. 1958 The Witness
Hoby has to track down a witness to a murder before an innocent man is hung.
The Toll Road S1, Ep17
31 Jan. 1958 The Toll Road
Hoby investigates the murder of a former mayor the whole town despised yet who kept gold coins in his cabin. Hoby suspects plain old robbery and not personal revenge.
The Young Gun S1, Ep18
7 Feb. 1958 The Young Gun
Hoby is dispatched to Del Rio to investigate a bank robbery. He poses as a criminal to trick one of the bank robbers to lead him to the the rest of the gang and the money.
The Wedding S1, Ep19
14 Feb. 1958 The Wedding
Hoby is called to Barkerville, Texas to investigate the murder of a rich and powerful man murdered on the day of his wedding.
The Trail S1, Ep20
28 Feb. 1958 The Trail
Hoby gets a lead to a three year old train robbery that takes him south of the border into old Mexico, where he confronts the aging train robber.
The Bounty Hunter S1, Ep21
7 Mar. 1958 The Bounty Hunter
Hoby teams up with a bounty hunter named Josh Randall to locate a philandering husband.
The Judge S1, Ep22
14 Mar. 1958 The Judge
Hoby is forced to arrest the wild son of a local judge for murder, the kid telling him all the while he'll never stand trial.
The House S1, Ep23
21 Mar. 1958 The House
Hoby helps a blind woman from Fort Worth find her mother, only to discover the older woman has disappeared and the "step father" is willing to take her in.
The Boy S1, Ep24
28 Mar. 1958 The Boy
Hoby is called to help a young boy after his mother is viciously killed by a man intent on kidnapping him.
The Pueblo Kid S1, Ep25
4 Apr. 1958 The Pueblo Kid
Hoby has to deal with the pending arrival of the notorious Pueblo Kid!
The Winter Boys S1, Ep26
11 Apr. 1958 The Winter Boys
Hoby has to nursemaid a witness from El Paso who's in hiding until the big murder trial in three weeks.
The Mistake S1, Ep27
18 Apr. 1958 The Mistake
Hoby gets on the bad side of town when he assists in freeing what he thinks is an innocent man. However, once acquitted, the killer admits his guilt only to the Ranger and makes his life much worse.
The Deal S1, Ep28
25 Apr. 1958 The Deal
Hoby has to deal with a notorious outlaw/killer who is holding a runaway town boy for ransom.
The Jailbreak S1, Ep29
2 May 1958 The Jailbreak
Hoby has to deal with a jailbreak– except the cowboy doesn't leave– he takes three hostages and tries to work a trade– them for the Ranger!
The End of the World S1, Ep30
9 May 1958 The End of the World
Hoby has to deal with a snake oil salesman selling the end of the world to a town filled with gullible people.
The Brothers S1, Ep31
16 May 1958 The Brothers
Hoby tracks down Mal Cody after his twin brother Wes steals Hoby's badge, identification, gun, money and horse and poses as Hoby to break Mal out of jail.
The Governor S1, Ep32
23 May 1958 The Governor
Hoby has to contend with a murder in a small town the day before the arrival of the Governor for the dedication of a new school– and the victim was an undercover Texas Ranger.
Season 2
Killer Take All S2, Ep1
5 Sep. 1958 Killer Take All
Hoby investigates the murder of a well known rancher who lead a double life as a notorious gambler.
Outlaw's Wife S2, Ep2
12 Sep. 1958 Outlaw's Wife
The town's women want Hoby to make an outlaw's wife (who just returned to Porter) to leave town.
Chinese Cowboy S2, Ep3
19 Sep. 1958 Chinese Cowboy
The town hoodlums make life miserable for Porter's new Chinese launderer.
The Set Up S2, Ep4
26 Sep. 1958 The Set Up
Henrietta's new gentleman friend is only using her to setup an alibi for a bank robbery.
A Stone for Benny French S2, Ep5
3 Oct. 1958 A Stone for Benny French
Hoby tracks down Benny French who was the only member of the Morgan Larker gang who escaped from the bank robbery.
Trapped S2, Ep6
10 Oct. 1958 Trapped
Hoby is held prisoner in a shack during a blizzard by the wife of husband and wife outlaws to care for her sick husband.
Matter of Justice S2, Ep7
17 Oct. 1958 Matter of Justice
One of the outlaws who held up the Butterfield stage depot has been caught and is awaiting trial and hanging. Hoby is called in to protect the town of Talpa. The prisoner claims his outlaw gang will kill the witnesses and destroy the town.
Tenner Smith S2, Ep8
24 Oct. 1958 Tenner Smith
The town of Porter is threatened to be shot up by a trail hand and his friends looking for revenge against a card shark who won his money and shot him in a fair fight.
The Avenger S2, Ep9
31 Oct. 1958 The Avenger
Lance Garth is accused of stealing the payroll from Banning Mining but he is shot and killed before the money is found.
The Schoolteacher S2, Ep10
7 Nov. 1958 The Schoolteacher
The Schoolteacher, Jim Martin, is being forced out of town by the town bully, Quince Flanders, who does not want the children to have an education.
Deadly Decoy S2, Ep11
14 Nov. 1958 Deadly Decoy
Stranger Ed Teller brings a body into Crater Junction saying it is Cass Desmond who he killed in self-defense and claims the $1,000 reward. Hoby accompanies Ranger Stan Elliott (the only person who can identify the body) to Crater Junction.
Sunday's Child S2, Ep12
21 Nov. 1958 Sunday's Child
Gambler Joe Sunday comes to Porter with a court order to take possession of his baby daughter from his mother Cindy who plays the piano in the saloon. Hoby has to enforce the order over the objections of Henrietta and the whole town.
Day of Vengeance S2, Ep13
28 Nov. 1958 Day of Vengeance
Henrietta tells Hoby that she just received word that murdering convict Jack Summers has been released and is returning to Porter to kill somebody to avenge his brother's death and Hoby has to stop him.
Three-Legged Fox S2, Ep14
5 Dec. 1958 Three-Legged Fox
Five over age 50 tough and scruffy looking men slowly ride into town. While Sheriff Vernon Croft watches, 3 of the men take positions outside the Coleman Citizens Bank while two go in and then come and carefully leave town.
The Kid S2, Ep15
12 Dec. 1958 The Kid
Hoby stakes out a hotel hallway waiting for a burglar and then shoots somebody running away who refuses to stop only to find out it was a 16 year old boy.
Guilt S2, Ep16
19 Dec. 1958 Guilt
Ranger Jim Perkins got drunk and killed a boy in cold blood 3 years ago and was given life in prison. Hoby makes a surprise announcement that Jim is returning by stage tonight and that makes 2 men in town very afraid.
Every Man a Witness S2, Ep17
26 Dec. 1958 Every Man a Witness
Sheriff Alvin Freemont and a mob take prisoner Char Lopez out of jail and threaten to lynch him unless he confesses. The horse bolts and Lopez is hanged. Hoby is sent in to investigate who was responsible.
McCallin's Daughter S2, Ep18
2 Jan. 1959 McCallin's Daughter
Youngster Debby McCallin comes to town and asks Hoby to stop her father Bart McCallin from committing a robbery.
Bad Judgment S2, Ep19
28 Jan. 1959 Bad Judgment
Rafe Borden is trying to frighten Charley Wagner and his family so he will not testify at the trial tomorrow against Rafe's brother Lute who would be hanged if convicted of murder. Sheriff Whittaker asks Hoby if he can do something to help.
Terror S2, Ep20
4 Feb. 1959 Terror
Doc Calhoun and Hoby deal with an outbreak of Typhoid fever in town.
The Feud S2, Ep21
11 Feb. 1959 The Feud
Elderly and dying Maude Turley has her boys bring her back to Porter to die and be buried next to her husband after being run out of town 17 years ago by the Corbett's. Hoby tries to keep the two families from killing each other.
The Samaritan S2, Ep22
18 Feb. 1959 The Samaritan
Hoby finds a man on the trail with his leg caught in a bear trap and releases him. The man then knocks Hoby out, steals his horse and gun and leaves him caught in the bear trap.
The Gang S2, Ep23
25 Feb. 1959 The Gang
On his way back to Porter, Hoby meets Frank on the road. Frank is dying and warns him of trouble in Porter. Riding into Porter, Hoby learns the Hastings Gang has treed the town.
The Threat S2, Ep24
4 Mar. 1959 The Threat
A smiling stranger wearing a 3-piece suit and bowler hat barges into the bank manager's office carrying a package under his arm and threatens to blow the town of Porter off the face of the Earth in one hour unless he is given $10,000.
Hard Lines S2, Ep25
11 Mar. 1959 Hard Lines
Joker Wells who was a traitor with the Confederate Army returns to his home town of Porter. Everybody wants Hoby to run him out of town especially Ed Crow who blames Joker for the loss of his arm in the war.
Fear S2, Ep26
18 Mar. 1959 Fear
Ambrose Hooker and his 3 brothers are bullying Joe the Bartender and saloon owner Tenner Smith. Hoby walks in and Ambrose goads his kid brother Little Beamer to draw on Hoby and Hoby kills him. Now Abrose wants revenge.
Stranger in Town S2, Ep27
25 Mar. 1959 Stranger in Town
Henrietta Porter receives a letter from Harry Keller who was just released from prison warning the town of Porter to stay away from Hoby because Harry is coming to kill Hoby in revenge for killing his brother.
The Protector S2, Ep28
1 Apr. 1959 The Protector
Hoby shows a wanted poster for Frank Wilson to the Sheriff of Blanton who lies and says he never heard of him (because he knows his daughter is in love with Frank).
False Witness S2, Ep29
8 Apr. 1959 False Witness
A strange girl arrives in Porter and tells Hoby that she knows that Joe Corbett is innocent of murder even though he was convicted and sentenced to hang because she was a witness and saw somebody else do it.
The Trick S2, Ep30
15 Apr. 1959 The Trick
Tully Saxon knocks on the door to Tenner Smith's office in the saloon. When Tenner opens the door, he is surprised to see someone he had not seen in 8 years. Tully tells Tenner he will kill him before he leaves town.
The Eyes of Jerry Kelso S2, Ep31
22 Apr. 1959 The Eyes of Jerry Kelso
When traveling salesman Emanuel Brock is found shot to death in his hotel room, Hoby has to figure out who did it.
Gift Horse S2, Ep32
29 Apr. 1959 Gift Horse
Two old men (Zack and Levi) tell Ralph that they are his long lost uncles but Hoby thinks something about the two men rang sour.
The Vote S2, Ep33
6 May 1959 The Vote
A man and a woman came to Porter bringing with them the idea of "Give Women the Vote".
The Unwanted S2, Ep34
13 May 1959 The Unwanted
Hoby is called to the town of Glenville who are afraid that a group of religious people who moved in outside of town are practicing witchcraft and are causing bad luck.
Toss Up S2, Ep35
20 May 1959 Toss Up
Naomi Wallace tells Hoby that her husband Paul has hired gunman Billy McCall to protect him from her brother Gary who blames Paul for killing Gary's father.
Back to Crawford S2, Ep36
9 Sep. 1959 Back to Crawford
Hoby returns home to Crawford to help his sister Nora after she sends him a telegram that somebody has been threatening her and because he gets a telegram from town drunk Fred Sales to come home quick because his sister is going to die.
Blind Alley S2, Ep37
16 Sep. 1959 Blind Alley
Rufus Cole shoots Mike Hardesty off his horse on the trail. Hoby who had been trailing Rufus for six weeks comes along to save Mike but he has lost his sight.
Quiet Night in Porter S2, Ep38
23 Sep. 1959 Quiet Night in Porter
Chad Winter, the owner of the general store, finds an old woman in his store after closing then two men walk in and shoot him. Hoby has to find out who killed him.