State Trooper – western TV show. CLICK ON THE PHOTO TO GO TO State Trooper – western TV show VIDEOS.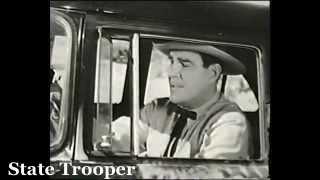 Rod Blake, a State Trooper is an officer of the Nevada Department of Public Safety. The setting is in the 1950s American West. Starring Rod Cameron, Robert Armstrong, Don Haggerty, Jean Byron. There are 105 episodes of this classic western television series. Originally airing from 1956 through 1959. More of a modern western with automobiles.
EPISODE GUIDE INFORMATION for the State Trooper – western TV show PROVIDED BY http://www.imdb.com
Season 1
Rodeo Rough House S1, Ep PILOT
3 Feb. 1956 Rodeo Rough House
Blake is sent to northern Nevada to investigate the robbery and beating of a rancher who just withdrew 600 dollars in brand new bills from the Tonopah bank. Blake investigation of the crime scene gleans information indicating that the thief was a cowpoke driving a truck with a battered horse trailer, so he heads to a rodeo in Elko to find his man.
Red Badge of Death S1, Ep1
25 Sep. 1956 Red Badge of Death
When gamblers leaving Las Vegas are robbed of their winnings by men posing as police officers, Blake masquerades as a high roller to try to lure the bandits into a trap.
The Paperhanger of Pioche S1, Ep2
2 Oct. 1956 The Paperhanger of Pioche
Blake is assigned to assist the Las Vegas police track down a couple passing bogus payroll checks.
Meeting at Julias S1, Ep3
9 Oct. 1956 Meeting at Julias
A gang of thieves kill a silver mine's paymaster and wound a policeman during a payroll robbery. Blake pursues a gang of murderous thieves to a graveyard in Virginia City, Nevada.
Jailbreak at Tonopah S1, Ep4
28 Nov. 1956 Jailbreak at Tonopah
A wife and a friend engineer a jailbreak for a man in jail on concealed weapon charges so he dig up the loot from an earlier robbery. Rod Blake and the sheriff of Tonopah, Nevada attempt to apprehend the three crooks and recover the money.
The Hills of Homicide S1, Ep5
4 Dec. 1956 The Hills of Homicide
A man seeking help after running out of gas discovers two bodies in a house trailer. Rod Blake tries to find the killer with only a Lake Tahoe trailer park brochure, a spearfishing gun and mining stock certificates for clues.
From Here to Molokai S1, Ep6
7 Dec. 1956 From Here to Molokai
Blake learns that a suspect in a Reno murder might be living as a beachcomber on Molokai in the Hawaiian Islands.
What Price Gloria S1, Ep7
11 Dec. 1956 What Price Gloria
Blake suspects that a boating accident is actually a case of attempted murder and his prime suspect is the victim's best friend.
Weep No More O'Grady S1, Ep8
12 Dec. 1956 Weep No More O'Grady
Rod tries to determine the connection between forged antiques, an automobile accident and a corpse.
Nevada Boy, Pride and Joy S1, Ep9
18 Dec. 1956 Nevada Boy, Pride and Joy
Blake investigates a businessman's claim that someone plans to kill him.
One Way to Tahoe S1, Ep10
25 Dec. 1956 One Way to Tahoe
When a bride vanishes while honeymooning at Lake Tahoe vanishes shortly after depositing a large sum in her new husband's bank account, Blake's investigation focuses on the woman's ex-husband.
Room Service for 321 S1, Ep11
1 Jan. 1957 Room Service for 321
When a woman is found murdered in her hotel room, Blake and Sheriff Anderson suspect that an elderly ex-convict recently released from prison might be involved.
The Cash Out S1, Ep12
15 Jan. 1957 The Cash Out
When a large sum of money is stolen in Las Vegas, Blake's investigation leads him to a bookmaker, a chorus girl and Chicago, Illinois.
Trail of the Dead S1, Ep13
29 Jan. 1957 Trail of the Dead
Blake investigates when five amateur prospectors disappear in a remote area of mountainous area. The trail leads to a remote cabin and mine.
Rocking Chair Bandit S1, Ep14
1 Feb. 1957 Rocking Chair Bandit
Police investigate a series of robberies apparently perpetrated by an elderly woman. Blake believes that crimes weren't committed by an elderly crook at all, but by a pair of out-of-work dancers.
Coate of Many Colors S1, Ep15
13 Feb. 1957 Coate of Many Colors
Blake's murder investigation reveals that the victim lived a double-life – that of a ordinary cowhand and a famous artist.
Boulder Joe's Bottle House S1, Ep16
20 Feb. 1957 Boulder Joe's Bottle House
Blake suspects a retired safecracker, now living as a desert rat, might be responsible for the robbery and murder of a night watchman.
Who Killed Doc. Robbins S1, Ep17
27 Feb. 1957 Who Killed Doc. Robbins
Sheriff investigates the disappearance of a local drifter who recently married the daughter of a prosperous Reno rancher.
Buck Fever S1, Ep18
1 Mar. 1957 Buck Fever
Blake investigates the connection between a hunting accident and buried treasure.
No Fancy Cowboys S1, Ep19
13 Mar. 1957 No Fancy Cowboys
Blake goes undercover as a dude range cowpoke to learn if the owner and her henchmen are extorting money from their guests.
Violets on Mt. Rose S1, Ep20
27 Mar. 1957 Violets on Mt. Rose
Blake investigates a Reno jewelry store robbery and learns that the crooks had inside help.
The Last Stage Robbery S1, Ep21
2 Apr. 1957 The Last Stage Robbery
A reenactment of an Old West stagecoach ride results in robbery, kidnapping and murder. Blake is called in to assist the Las Vegas police rescue the victim and bring the perpetrators to justice.
The Silver Duke S1, Ep22
10 Apr. 1957 The Silver Duke
Blake goes undercover to learn the identity of crooks who have been stealing silver from a Nevada mine.
Death on the Rock S1, Ep23
17 Apr. 1957 Death on the Rock
When a missing hunter is found dead, Blake suspects that the land owner may have killed him.
The Last War Party S1, Ep24
8 May 1957 The Last War Party
A Piute Indian is convicted of cattle-rustling and sentenced to serve a hefty jail sentence in spite of protesting his innocence.
Voice of the Bug S1, Ep25
14 May 1957 Voice of the Bug
A private detective, whose specialty is electronic surveillance devices, is found murdered. Blake joins the Las Vegas police force to bring the killer of the former policeman to justice.
The One That Didn't Get Away S1, Ep26
17 May 1957 The One That Didn't Get Away
Blake travels to an exclusive hunting lodge to investigate the death of three wealthy members and discovers that the "accident" was really cold-blooded murder.
Cinder Jungle S1, Ep27
15 May 1957 Cinder Jungle
Blake helps a railroad detective investigate a wave of freight train robberies.
Diamonds Come High S1, Ep28
1 May 1957 Diamonds Come High
Blake investigate pilots working for a charter airplane company when $200,000 worth of diamonds are stolen.
Jail Trail S1, Ep29
29 May 1957 Jail Trail
Blake races to arrest a criminal who fled to Los Angeles after committing a murder in Reno before the husband can find him and exact his personal revenge.
The Only Girl on Boot Hill S1, Ep30
1957 The Only Girl on Boot Hill
Blake must find for a mentally unstable man, unbalanced by the death of his wife, before he can harm himself or others.
No Blaze of Glory S1, Ep31
12 Jun. 1957 No Blaze of Glory
Blake investigates arson and murder in the small Nevada town of Goldfield. The owner of the general store's wife was found in the wreckage and the man was suspiciously out of town when the blaze occurred.
Beef ala Murder S1, Ep32
19 Jun. 1957 Beef ala Murder
Blake and a female detective are investigating a payroll robbery when bills from the theft are discovered in Reno and Las Vegas.
Ride Til You Die S1, Ep33
26 Jun. 1957 Ride Til You Die
When a love triangle at a dude ranch explodes into murder, Blake is ordered to apprehend the murderer.
Safe on a Boat S1, Ep35
29 Sep. 1957 Safe on a Boat
Police investigate the theft of Las Vegas casino's safe that disappeared during a lavish wedding ceremony. Blake's only clue points to the honeymooning couple who are en route to Niagara Falls.
Fury on Fremont Street S1, Ep36
6 Oct. 1957 Fury on Fremont Street
When her former husband is released from prison, a woman contacts the police requesting protection because she fears the ex-con will kill her. Blake is ordered to investigate when the woman's second husband is shot during a Las Vegas Wild West parade.
The Live Shell Game S1, Ep37
23 Aug. 1957 The Live Shell Game
Blake goes undercover at a small desert museum where con-artists are accused of swindling tourists of large sums of money.
Season 2
A Penny Saved S2, Ep1
19 Sep. 1957 A Penny Saved
A publicist calls the Las Vegas police to claim an entertainer he represents has been kidnapped. Blake and Elder's investigation reveals a link between the abduction and a bank robbery.
Out of Line S2, Ep2
15 Sep. 1957 Out of Line
Rod tries to capture a murderous robber through his ex-wife, a Las Vegas chorus girl.
Madman on the Mountain S2, Ep3
22 Sep. 1957 Madman on the Mountain
When a gangster is arrested for attacking his ex-wife with a wrench, he pleads insanity. Blake works to prove that the thug is competent to stand trail and intended to maim his former spouse.
The Talking Corpse S2, Ep4
1 Dec. 1957 The Talking Corpse
The captain of a sightseeing boat reports a passenger, who had been acting oddly after spotting a couple on the dock, has disappeared during a tour of Lake Mead.
Diamonds in the Rough S2, Ep8
3 Jan. 1958 Diamonds in the Rough
Blake investigates a jewelry theft and uncovers a cloud of suspects.
Cable Car to Tombstone S2, Ep9
12 Jan. 1958 Cable Car to Tombstone
Blake investigates when a Hoover Dam worker irrationally flees a plainclothes detective and falls to his death.
The Perilous Picnic S2, Ep10
19 Jan. 1958 The Perilous Picnic
A man kidnaps two women from a national park and threatens them unless his former boss ransoms them. Blake goes undercover as a photographer to try to rescue the missing women before they come to harm.
Grudge Race S2, Ep11
26 Jan. 1958 Grudge Race
Blake investigates a speed boat wreck that critically injured the driver and suspects that incident was not an accident.
Dangerous Honeymoon S2, Ep12
23 Feb. 1958 Dangerous Honeymoon
When a private plane crashes in the Nevada desert, Blake is asked to help identify the victims.
The Doll Who Couldn't Sleep S2, Ep13
9 Feb. 1958 The Doll Who Couldn't Sleep
Blake learns of the upcoming robbery of a Las Vegas Western Union branch.
Full Circle S2, Ep14
16 Feb. 1958 Full Circle
Blake investigates the murder of a man found beaten to death and placed in a demolished car.
The Gandy Dancers of Steptoe Valley S2, Ep15
15 Dec. 1957 The Gandy Dancers of Steptoe Valley
Blake pursues a gang who have been robbing mines and mills.
The Sound of Death S2, Ep16
22 Dec. 1957 The Sound of Death
Blake is called as a witness in a million-dollar lawsuit against the U.S. government.
The Dancing Dowager S2, Ep17
29 Dec. 1957 The Dancing Dowager
In order to capture a con-woman, Blake must run a con of his own.
Crisis at Comstock S2, Ep18
13 Apr. 1958 Crisis at Comstock
The Case of the Happy Dragon S2, Ep19
1 Mar. 1958 The Case of the Happy Dragon
Rod Blake decides to go to San Francisco to investigate a most unusual case. The corpse of a Chinese woman has indeed been … kidnapped and held for ransom.
Wild Green Yonder S2, Ep20
15 Mar. 1958 Wild Green Yonder
When two men posing as soldiers and a female accomplice heist a large Air Force payroll, Blake is assigned to work with federal law enforcement personnel to recover the money.
312 Vertical S2, Ep23
11 May 1958 312 Vertical
Blake poses as a bank robber in order to infiltrate a gang who owns a number of hotels across the country to serve as hideouts after robberies.
Death on Wheels S2, Ep24
16 Feb. 1958 Death on Wheels
Blake is ordered to investigate a wave of highway truck robberies.
710 Hysteria Street S2, Ep26
6 Apr. 1958 710 Hysteria Street
Blake investigates when a prowler terrorizes a neighborhood on the wrong side of the tracks.
Sweetheart of Sigmund Kaye S2, Ep27
8 Mar. 1958 Sweetheart of Sigmund Kaye
A husband and wife disappear under mysterious circumstances. Their daughter, a pretty college student, claims that they often travel great distances on the spur of the moment.
Kitchen Kill S2, Ep28
20 Apr. 1958 Kitchen Kill
Blake investigates a suspicious death to determine if it was an accident or murder.
The Widow Makers S2, Ep29
22 Mar. 1957 The Widow Makers
A case of mistaken identity after a fatal car wreck sets in motion a series of attempted murders. Believing her son dead, Virginia Syckles shoots Ogden Karnes, the man she blames for her husband's death in a mine he owned. Her son, Jamie, is Karnes sole heir and when the old man seems to be recovering from his wounds, decides to finish the job with the help of his gold-digging girlfriend.
Mystery Sniper S2, Ep30
29 Mar. 1957 Mystery Sniper
Blake tries to stop a sniper who is terrorizing the populace.
Hardrock Man S2, Ep31
10 Sep. 1958 Hardrock Man
Blake is suspicious of a man's confession to murder.
Key to a Killer S2, Ep32
22 Jun. 1958 Key to a Killer
Blake investigates when a man is killed interrupting a burglary. His investigation shows that burglary fits into a pattern of other crimes with the link being a home-repair company. Blake goes undercover as a carpenter to investigate the company's personnel.
Stay Lost Little Girl S2, Ep34
27 Apr. 1958 Stay Lost Little Girl
Blake is asked to locate a missing niece, who left her Kansas farm to join a carnival.
Firebug S2, Ep35
4 May 1958 Firebug
Blake and Anderson pose as campers to serve as bait for two men posing as prospectors who rob and kill campers. The criminals try to hide their crimes by burning the crime scene.
The Last Waltz S2, Ep37
18 May 1958 The Last Waltz
A family of crooks plans to hijack appliances bound for a new housing development.
Sweet & Gentle, Ltd. S2, Ep38
18 Aug. 1958 Sweet & Gentle, Ltd.
Blake investigates the murder of a man found dead in his company's vault.
No, My Darling Daughter S2, Ep39
1 Jun. 1958 No, My Darling Daughter
A father trying to prevent his daughter's wedding, sends a man to prevent their elopement in Reno.
The Clever Man S2, Ep40
25 Aug. 1958 The Clever Man
Blake is asked to investigate when an insurance agent withdraws a large sum from his bank account and gives it to a known con-man.
The Silver Spiral S2, Ep41
26 Feb. 1959 The Silver Spiral
A murderer escapes from an insane asylum and heads for Virginia City. Blake must capture him before he can kill again.
Travel Now, Slay Later S2, Ep42
12 Feb. 1959 Travel Now, Slay Later
Blake pursues a thief of negotiable bonds to his Hawaiian hideaway.
Excitement at Milltown S2, Ep44
22 Jan. 1959 Excitement at Milltown
Blake investigates a series of deadly accidents at a remote lumber mill and discovers sabotage.
Joker's Dead S2, Ep45
14 Jul. 1958 Joker's Dead
Blake investigates when a compulsive practical joker is found dead at a resort.
The Winnemucca Weskit S2, Ep46
21 Jul. 1958 The Winnemucca Weskit
Blake's investigation of a bank robbery in which a deputy sheriff was killed leads to an old friend who makes bullet-proof vests.
You Can't Run Forever S2, Ep47
28 Jul. 1958 You Can't Run Forever
When a police officer searches a car after stopping the driver for speeding he discovers a stolen bracelet. Blake believes the young man was framed and tries to find the guilty parties.
When the Cat's Away S2, Ep52
1 Sep. 1958 When the Cat's Away
Blake joins a carnival to prove that some of its workers are involved in a series of burglaries.
Season 3
Prettiest Dress in Goldfield S3, Ep1
1 Jan. 1959 Prettiest Dress in Goldfield
A hermit is accused of murdering a man and a woman, but Blake believe the man was framed.
The Trap That Jack Built S3, Ep2
8 Jan. 1959 The Trap That Jack Built
When a woman is electrocuted in an abandoned mine, Blake determines that the "accident" was really murder and suspects the mine's owner had the best motive.
This One'll Kill Ya S3, Ep3
15 Jan. 1959 This One'll Kill Ya
Blake investigates the murder of a woman found dead in her car in Reno. His prime suspect is the woman's ex-husband.
Carson City Kitty S3, Ep4
24 Mar. 1959 Carson City Kitty
Blake suspects an inside job when a valuable necklace is stolen from a Carson City, Nevada museum.
Lonely Valley S3, Ep5
29 Jan. 1959 Lonely Valley
Piute Indians request the assistance of Rod Blake when a hermit and his sons, crazed by an atomic test in the Nevada desert, shoot anything that moves in their valley, especially Indians hunting for game.
Case of the Barefoot Girl S3, Ep7
16 Apr. 1959 Case of the Barefoot Girl
When an old friend is accused of murdering a vacationing couple in Mexico, Blake travels south of the border to investigate the crime.
Fiddle Dee Dead S3, Ep8
19 Feb. 1959 Fiddle Dee Dead
When a holdup gang steals the car of a popular Reno band leader, Blake uses a violin as bait to capture the crooks.
The Judas Tree S3, Ep9
2 Apr. 1959 The Judas Tree
A drifter who witnesses a murder attempts to flee, but falls victim to the murderers.
Inherit a Bullet S3, Ep10
3 Mar. 1959 Inherit a Bullet
When a wealthy rancher dies in an automobile accident, his mother is shocked to meet a woman claiming to be his wife who demands her share of the estate.
The Man from Solitary S3, Ep11
10 Mar. 1959 The Man from Solitary
Blake goes undercover in Arizona to investigate the activities of a rancher who hires ex-convicts to work on his spread.
Hard Money, Soft Touch S3, Ep12
17 Mar. 1959 Hard Money, Soft Touch
Blake suspects a casino dealer and her shifty boyfriend when a priceless coin collection is stolen.
Pistols for Two S3, Ep13
7 May 1959 Pistols for Two
Blake is asked to determine whether or not a San Franciso newspaper reporter was murdered or killed in self-defense.
So Early in the Mourning S3, Ep14
21 May 1959 So Early in the Mourning
Blake goes undercover to investigate a tip that a woman is seeking to hire a killer for a murder-for-hire scheme.
The Choker S3, Ep15
9 Apr. 1959 The Choker
Blake's investigation into the deaths of nightclub waitresses leads to a hobo camp. He tries to get evidence by posing a vagrant.
Let 'Em Eat Smoke S3, Ep17
23 Apr. 1959 Let 'Em Eat Smoke
Blake parachutes into a forest fire to capture a murder suspect hiding in an abandoned mine.
The Patient Skeleton S3, Ep18
30 Apr. 1959 The Patient Skeleton
When a runaway truck accidentally strikes an old mansion, a human skeleton–long hidden inside a wall–are revealed.
Everything Else Is Bridgeport S3, Ep19
11 Jun. 1959 Everything Else Is Bridgeport
While investigating a murder, Blake discovers his suspect has fled Nevada, heading for New York City.
While Jerome Burned S3, Ep20
14 May 1959 While Jerome Burned
Blake investigates the murder of a ranch owner found dead in a burning car. His prime suspects are the ranch foreman and the dead man's former spouse.
Love on the Rocks S3, Ep22
28 May 1959 Love on the Rocks
Blake investigates the murder of a woman and discovers there are clouds of suspects – everyone who knew the woman had reason to hate her.
And Baby Makes Two S3, Ep23
4 Jun. 1959 And Baby Makes Two
When a gambling casino is robbed, Blake is called in to lead the search for the crooks and recover the loot.
The Night Has a Thousand Eyes S3, Ep24
18 May 1959 The Night Has a Thousand Eyes
Blake investigates when a visitor disappears from a military academy's campus under mysterious circumstances.
The Girl on Cloud Nine S3, Ep26
25 Jun. 1959 The Girl on Cloud Nine
Blake investigates the link between a blackmail threat and an assault on a Las Vegas showgirl.
Season 4
Another Chance Unknown
2 Jul. 1959 Another Chance
While transporting a murderer to Reno for trial, Blake begins to wonder if the young man's claim of self-defense might not be valid.
The Woman Who Cried Wolf Unknown
6 Aug. 1959 The Woman Who Cried Wolf
A young girl replaces a woman in a vaudeville act.
Larceny and Old Ace Unknown
Larceny and Old Ace
The wife of Brady Colfax, a soon-to-be-released convict, warns Blake that the man still held a grudge against him for testifying against him in court.
Still Water Runs Red Unknown
Still Water Runs Red
A feud over water rights between a rancher and a female neighbor threatens to erupt into bloodshed unless Blake can prevent it.
The Black Leaper Unknown
The Black Leaper
A game warden finds a fisherman dead in his boat. Although the man had died hours earlier there was a freshly hooked trout hooked on his fishing tackle and the sign of bruising on the back of the man's head. Blake learns that the man was a wife-beater who had threatened to divorce his wife and name a neighbor in the complaint.
The Bride Wore Bullets Unknown
The Bride Wore Bullets
A used car salesman's estranged wife shows up at his apartment and begs forgiveness. During their argument a gunman bursts into Victor's apartment and kills the pretty brunette. Blake discovers that the car the dead woman was driving was hot and decides to set a trap to capture the killer and break up the stolen car racket at the same time.
What's Mine Is Mine Unknown
What's Mine Is Mine
When a mine owner is murdered, Blake suspects that either his partner, his partner's wife or both are implicated in the killing.